Brain Flow Choc Swirl Pumpkin Bread
We're living for this INBLOOM twist on pumpkin bread by our INBLOOM chef, Mallory. A cognition boosting take on pumpkin bread for pumpkin season with a few scoops of INBLOOM Brain Flow powder; our plant-based, nootropic formula for better cognition, memory, and stress management and a great tasting natural chocolate flavor.  
Created by: Mallory Bryce
Directions
Pumpkin Base: 
1) Preheat oven to 350F. Line loaf pan with parchment paper & lightly grease pan with coconut oil.
2) In a medium bowl, combine flour, sugar, baking soda, baking powder, pumpkin pie spice, and salt.
3) In another medium bowl, combine coconut oil, oat milk, and vanilla bean paste.
4) Add the wet mixture to the dry mixture, along with the pumpkin puree. Mix well.
5) Pour half of the batter into the prepared loaf pan.
Chocolate Swirl Base: 
1) To the remaining batter, add 2 spoonfuls of INBLOOM Brain Flow, 2 Tbs unsweetened cocoa powder & 3-4 Tbs oat milk. Mix well.
2) Pour the rest of the chocolate swirl batter into the loaf pan on top of the pumpkin batter, then swirl with a knife for marbled effect.
Final Preparation:
1) Top with chocolate chips.
2) Bake for approx. 55 minutes. Let cool & enjoy!
Share your favorite wellness recipes with us here, kateskitchen@tobeinbloom.com or @tobeinbloom #beinginbloom for a chance to be added to Kate's Kitchen.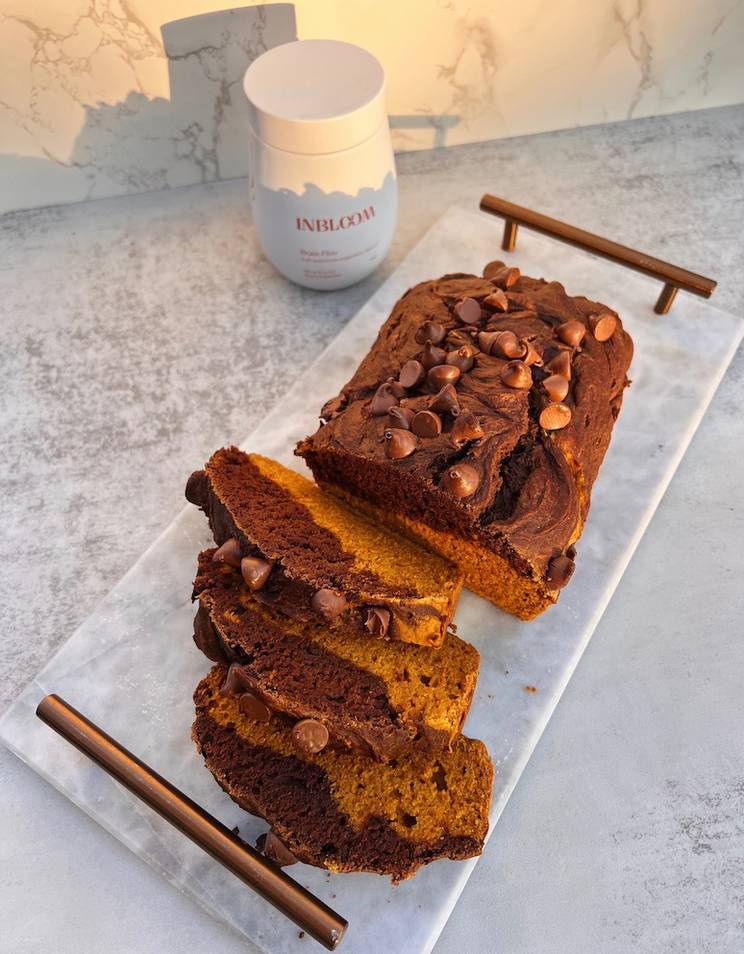 What You'll Need